From 24-26 October (2015), Carlos and I visited the Sierra Los Tuxtlas region of the state of Veracruz, Mexico to conduct some pilot projects and look for prospective research sites along the elevational gradient of Volcan San Martín. As a U.S. Fulbright Scholar, I am investigating how climate change and concomitant seed disperser/predator network changes may create barriers to upslope plant migrations in tropical mountains. Using Volcan San Martín as a natural laboratory, I plan to conduct seed and seedling transplant experiments downslope, to warmer regions on the same mountain.
We took a bus from Xalapa to Catemaco (around 6 h) and from Catemaco we were met by the owners of the station where we were spending the next couple of nights: Rancho Los Amigos on Lago Sontecomapan. After a 30 min drive to the boat dock in the small town of Sontecomapan, we boarded a water taxi to travel through this Ramsar site (full of shore birds, mangroves, and–unfortunately–lots of trash) and onward to the station. (click on any photo below to enlarge)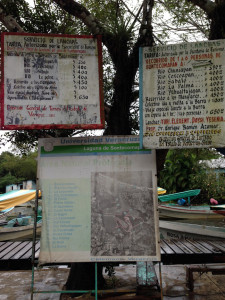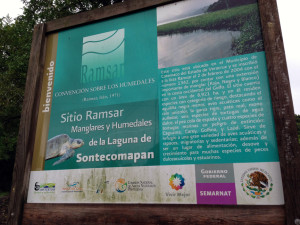 < Signs at the boat dock on Sontecomapan. The Ramsar Convention was signed in 1971 and designates wetlands of international importance (especially with regard to waterbird habitat)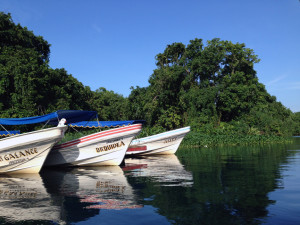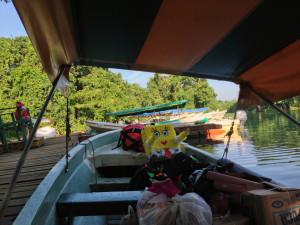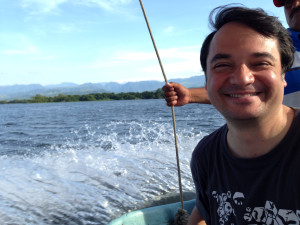 < Riding the water taxi across the lake.
Once we arrived in Rancho Los Amigos, Carlos and I settled into our cabina, unloaded some gear, and headed out to the field to scout sites and place some artificial fruits in the field (placing them in the primary forest for a couple of days to see if they get attacked by ants). We also set out some camera traps to see what mammals roam around the fragmented, regenerating forests around the station.
< Sunset and sunrise from the dock in front of the station.

< Hiking around the montane forest fragments, setting camera traps, visiting a germinating Carapa sp., and hunting for Cephaloleia beetles amongst the Heliconia leaves.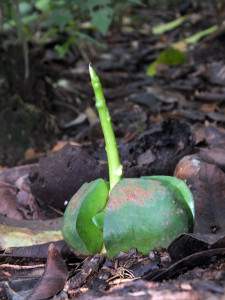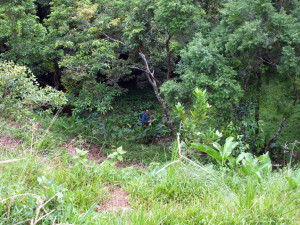 After an early night, we prepared for an early start the next morning, waiting on the dock for a water taxi to pick us up at 0700 h. Unfortunately, today was also the day after Hurricane Patricia battered the southwest coast of the country and we got pummeled with some heavy rain and wind from the outer bands of the tropical storm. This halted all water taxis on the lake. We waited out the storm for a couple of hours before finally reaching Catemaco again. We had to call off our expedition up the mountain (too dangerous with rock slides and potential tree falls), but enjoyed wandering around the lake town of Catemaco. Catemaco is somewhat of a tourist destination famous for its brujos (witches) and "monkey island." There is an island in the center of Lago Catemaco where a population of Rhesus macaques were imported. These macaques are apparently famous for their huge sizes due to overfeeding by tourists (most can no longer climb trees). We didn't venture out to the island, but there were plenty of boats willing to take us there.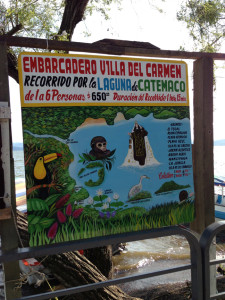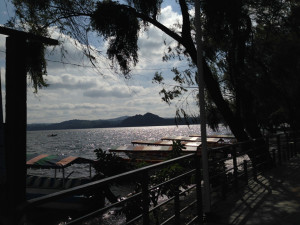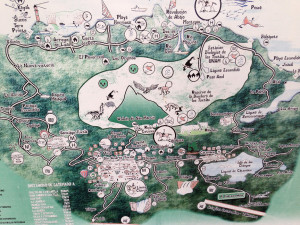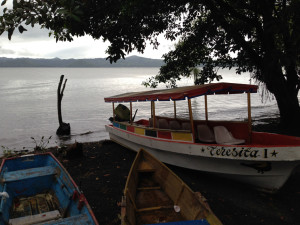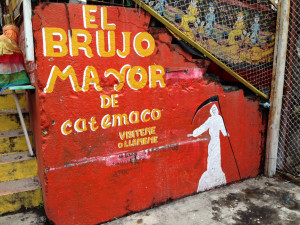 < Nice painted signs dotted the perimeter of Lago Catemaco advertising monkey island. We also saw lots of signs for brujos and witchcraft material.
We returned to Rancho Los Amigos in the early afternoon to collect the artificial fruits, camera traps, and more beetles for Carlos' experiments. Success! No ants were able to infest the artificial fruits (this means that I can place them in the field and ants won't interfere with seed dispersal/predation by mammals). We turned in early again to prepare for our departure back to Xalapa the next day.
Despite not being able to travel up the mountain because of the prohibitive storms, this trip was very successful and a great prelude to our longer trip to Los Tuxtlas Biological Station at the end of November–that is when the real projects will begin~